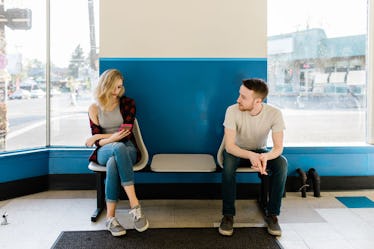 Dating Coaches Reveal 6 First Date Red Flags That Mean There Won't Be A Second
One of the most frustrating feelings in the world is when you go out on a first date with someone, you have no real expectations, and you're surprised to find that you genuinely enjoyed yourself for once... but then you don't hear from your date after the fact, and you have no idea why. Sometimes, the signs there won't be a second date are obvious, like when you're both clearly reaching for things to talk about. Other times, though, the indicators that your date just isn't that into it are much more subtle.
Whether it's noticeable in their body language, how they choose to pay the bill, their choice of conversation topics, or what they don't say on the date, there are a number of first date red flags you can look out for in regards to whether or not there will be a second.
I spoke to two dating coaches about how to spot these potential warning signs, what to do if you still want to salvage the date, and when it's OK to just leave and move on. Hint: It's pretty much always. If you ever feel like you need to get out of there, it's perfectly acceptable to politely cut the evening short and exit the date with your dignity still intact.