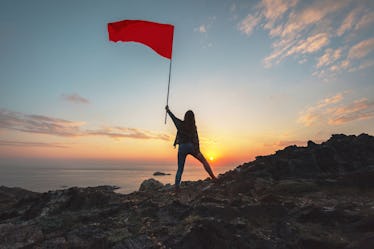 The Major Dating Red Flag You're Most Likely To Miss, Based On Your Zodiac Sign
If you're into astrology, you know that your zodiac sign can indicate how you might react to certain situations. For example, Aries are ruled by the element of fire, and that stubborn energy tends to come out when they aren't getting what they want. The way you act when meeting new people, as well as how you behave around those you are most comfortable with, can also be predicted based on your sign. So it makes sense that when it comes to the dating red flag you're most likely to fall victim to, the stars can once again help you identify your potential soft spots and prevent you from getting hurt — or hurting someone else.
When you're single and going out on a number of dates, it's easy to fall into familiar patterns. Your personality and unique desires are what attract people to you in the first place, but some of your habits may also be preventing you from forming a lasting relationship with someone truly special. Each sign has specific needs, and when these needs go unfulfilled, the signs show their dissatisfaction in different ways.
If you're beginning to feel like every date you go on ends the same, it might be time to look to astrology for some answers. Here is the major dating problem you're most likely to face, based on your zodiac sign.