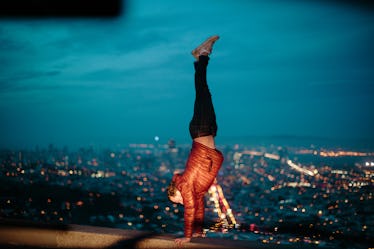 3 Red Flags When You're Dating An Extrovert That You Probably Haven't Thought Of
I think we all know at least one person whom we can consider the most outgoing. They're the ones at parties who spend a good portion of the night cracking jokes and telling captivating stories that leave everyone around them on the edge of their seat. And while extroverts certainly don't deserve to be categorized as self-absorbed soap-box hoggers (because most of them are not at all), you might come across someone like this at some point. Especially if you're someone who is more reserved, it's never a bad idea to keep an eye out for red flags when dating an extrovert.
Anyone who knows me knows that I love to talk, but at a certain point, I realized it's also important to listen, and pass the talking stick to those who might not find it as easy to interject their opinions. Once I started doing this, it became easy to see when other really extroverted peeps around me would take the reigns and spend a lot of time steering things to whatever topic they so chose, until they had gotten their fill and left. While extroverts are known to be rather magnetic and utterly entertaining, being in a relationship with an extrovert who lacks self-awareness can also be exhausting.
Have a funny story to tell? Most extroverts will let you get to the end without an interruption. Their less considerate brethren, however, may very well end up hijacking the conversation to tell a similar and "even funnier" version of the story you were in the process of telling — needless to say, not cool. Elite Daily spoke with bestselling author and relationship coach Susan Winter to get some insight into extrovert behavior that may turn out to be problematic.