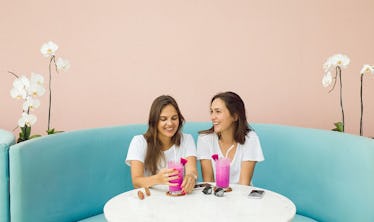 What Your Zodiac Sign Reveals About Your First Date Body Language
Every sign has a different way of behaving when they are on a first date. What your zodiac sign reveals about your first date body language also has a lot to do with whether you are an air, earth, water, or fire sign, and how you determine whether or not you are attracted to someone.
For air signs, attraction depends a lot on how intellectually stimulated they feel on a first date. Idle conversation will have them bored and quickly losing interest, but if their body language demonstrates that they are animated and expressive while you're talking, that's a good sign that they are interested in seeing you again.
Earth signs are more grounded in the body, and will initiate touch as a way to convey that they are interested. But whereas Virgo and Taurus will put themselves out there, expect Capricorn to keep their feelings close to their chest and not give too much information away on a first date.
Water signs might initiate touch, but less as a way to gauge interest and more as a way to gain information about whether or not there is sexual chemistry between them and the first date. Not all water signs will put themselves out there, though. Cancers, for example, are going to be protective and reserved on a first date, and might feel the need to go inside their metaphorical shell if overstimulated by a new encounter.
If you're going on a first date with someone and know their zodiac sign, or if you're wondering what your body language might be like on a first date, here's what you can expect.