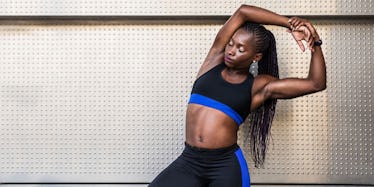 Experts Say These 6 Little Things Can Motivate You To Work Out In The Dead Of Winter
Does anyone else feel like it gets dark at, like, 3 p.m. in the winter? Just me? OK. I might be exaggerating a little, but seriously, there's no denying that when it's dark and cold and dreary outside, the last thing you want to do is move — like, not even to lean over and get the remote. But there are surprisingly little things that can motivate you to work out, even when keeping your eyes open seems like the most impossible task in the world.
I know the dead of winter can be a brutal time, but trust me, it's not as hard as you think to stay just a little bit active, even around the holidays. In fact, you can use the holidays as a low-key way to keep yourself moving: Between shopping for gifts, searching for the best Christmas lights in your neighborhood, and shoveling snow (OK fine, you'll probably find a way to get out of shoveling snow), you're not actually as much of a lazy sloth as you think.
Sure, it might take a bit more motivation, perhaps a lot woeful complaining about the weather, to full-on work out, but once you get into a routine, I'm willing to bet that there's no stopping you.