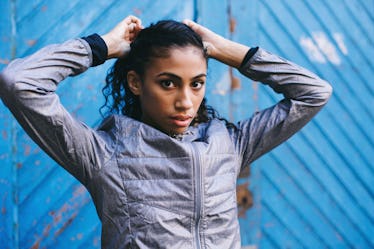 The Easiest Ways To Stay Active Throughout The Holidays, According To Experts
There are so many fun things to do during the holiday season. By that, of course, I mean gingerbread cookies to bake and eat, presents to wrap in glittery paper, and Elf to watch approximately 100 times in the span of one month. If you're lucky, you might even get to catch a marathon nap beneath a pile of your coziest blankets. The holidays are definitely a time to relax and celebrate, but if you've just emerged from a mega sleep, you might want to shake things up and expend some energy. Knowing how to stay active during the holidays doesn't have to mean long weightlifting sessions at the gym (unless, of course, that's your thing). Plenty of festive activities can get your heart pumping while keeping you firmly immersed in the holiday spirit.
Whether you intend to keep up your normal fitness routine, or you want to keep things more low-key, there's no need to feel guilty about choosing celebrations over a workout. If you've been invited to an ugly Christmas sweater party on a night you were planning on working out, it's really no big deal to take it easy, says Robert Herbst, a personal trainer, wellness coach, and champion powerlifter. In fact, he tells Elite Daily in an email, doing so will probably give your mind a nice break so that you can enjoy socializing and feel rejuvenated after the fact.
It can also be useful to consciously counter the idea that a workout has to be "intense" for it to "count," says Jumaah Goldberg, a physical therapy and fitness expert. "Got three minutes to spare as you're waiting for some sauce to heat up? See how many burpees you can do during that time," she suggests. The truth is, she tells Elite Daily, it doesn't really matter what you do or for how long; rather, she says it's the fact that you're using your time as best as you can that really matters.
For those times when you're on a sugar high and ready to get rid of some extra energy, here are some fun ways to get moving.