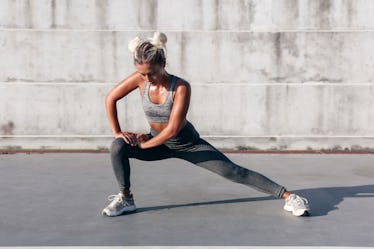 Breathe New Life Into Your 2019 Workout Routine With Any Of These 8 Fitness Challenges
Viktor Solomin, Stocksy
2019 is just within reach, my friends, and nothing says new year, new you, like a list of resolutions to start working toward come Jan. 1. But hear me out: How about, instead of going into the next 365 days with the intention of changing your image, you aspire to improve the fabulous you you already are? For example, let's say 2018 wasn't exactly your best in terms of fitness — maybe you fell off the bandwagon and just never found the motivation to get back into the weight room or yoga studio. There are plenty of 2019 fitness challenges to join in on once the holiday season comes to a close, and you're overcome with the inspiration to challenge yourself and get back in the game.
Setting resolutions, especially those of the fitness variety, can be a slippery slope. Oftentimes, New Year's resolutions can fail because the bar you set for yourself is a little too high, which can make any goal you're aspiring to achieve feel almost impossible. So you burn out, slow down, and eventually call it quits.
Of course, this is nothing to feel ashamed about or embarrassed of. Trust me, I definitely can't count on one, hell two hands, how many New Year's resolutions I've actually kept up with. But 2019 is a clean slate, a second chance, and if you're looking to challenge your strength and find out what your incredible body is really made of this year, the goal is to ultimately find a fitness routine that resonates with you — one that you genuinely look forward to every day, and stick with over time.
According to Flywheel master instructor Holly Rilinger, one of the most common reasons why New Year's resolutions fail is because "the goals are too lofty." Instead, Rilinger tells Elite Daily that it's important to acknowledge and respect where you are in the here and now. From there, she says, set your goals to reflect gradual progress, and make sure your aspirations are "realistic and attainable," at least for now. Remember, she says, "you can always go bigger in February."
In the meantime, here's a list of eight workout challenges to consider for 2019 that can help you take your fitness game to the next level in the new year.