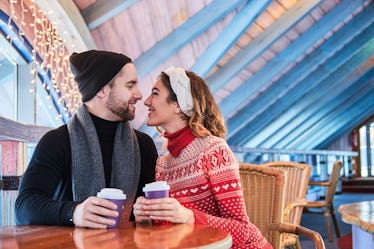 6 Holiday-Inspired Date Ideas That Will Have You Feeling Santa-Mental
Shutterstock
It could easily be argued that the holidays are the most romantic time of year. Between the twinkle lights and the mistletoe, everyone turns into a real-life heart-eyes emoji, and TBH, can you blame them? That means no ordinary dinner-and-a-movie plan will do — you'll want to take advantage of the many holiday-inspired date ideas.
The possibilities for fun and festive activities are endless around the holidays too. If you're an active couple, going ice skating, skiing, or snowshoeing might be a stellar way to bond. Or, if you both tend to get swept up in the nostalgia, you might enjoy going on a little walking tour of the neighborhood to marvel at all the elaborate light and decoration displays. Foodie couples, meanwhile, may opt to use this opportunity to try a new holiday-inspired recipe, or check out the seasonal menu at a local restaurant.
Honestly, the only pitfall during wintertime is that it's super tempting to go into full hibernation mode. And while there's nothing wrong with a little Netflix and chill time here and there, it's well worth the occasional effort to come up with a romantic plan, even if you stay right at home.
That's where these ideas come in. Because newsflash: your holiday-inspired date can be cute AF without being cheesy in the slightest.