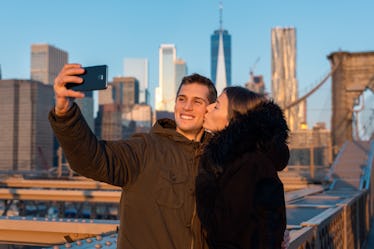 7 Dreamy Holiday Dates To Plan In NYC That Are Rom-Com-Worthy
Shutterstock
The city can be particularly magical during the holidays. The tree in Rockefeller Center is lit up, and travelers rush into Times Square right before the clock strikes midnight on New Year's Eve. It's only right that you and your love look into holiday date ideas in NYC that'll make you feel like you're in a movie.
That way, you can fall even more in love amongst the skyscrapers like Carrie Bradshaw from Sex and the City, and share romantic moments with bae in malls like Jovie and Buddy the Elf from Elf. You can squeeze in some kisses at the bustling ice skating rinks, or in a romantic, dimly-lit jazz club in Manhattan. All the while, you can take pictures with your phone and fill your camera roll with festive selfies and sweet memories.
Afterwards, you can show those pics to your friends who will probably say something like, "This could be a holiday card," or "It's like you're in a romantic comedy." That'll make you so happy and want to go on more holiday-themed dates in The Big Apple. Here are a few suggestions for some New York City holiday dates you could go on with bae this winter.