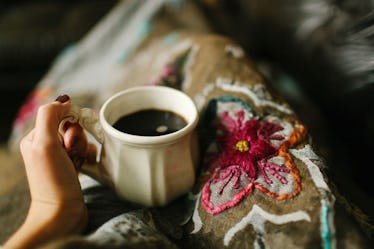 The Best Essential Oils To Try When You're Battling The Flu, According To Experts
Flu season is officially upon us, and if you've come this far without a single sniffle or cough to your name, congratulations. But for those who might be reading this under mountains of blankets with a warm mug of tea in one hand and a scrunched-up tissue in the other while you scroll, I'm so sorry. The most wonderful time of the year is also the germiest, so don't be surprised if you catch a hint of the flu. 'Tis the season, after all. Of course, coping with influenza isn't exactly merry or bright, but essential oils for the flu can ease the symptoms that make you feel the most rotten. Worse comes to worst, you might be sick for the holidays, but at least you'll be less of a Grinch about it, right?
If you can recall, the 2017-2018 flu season was kind of a nightmare, to say the least. According to The Poughkeepsie Journal, a record-breaking hospitalization rate of 107 per every 100,000 people spread across the United States last year. And even though the Centers for Disease Control and Prevention (CDC) stated in a Nov. 17, 2018, edition of its weekly influenza report that flu activity remains pretty low in the United States, the health agency is still encouraging you to get your flu shot ASAP, if you haven't already done so.
Technically, the CDC recommends that everyone get their flu shot before flu season, somewhere between the beginning of September and the end of October. However, the 13th annual National Influenza Vaccination Week will take place starting Dec. 2 and continue through Dec. 8, 2018, to stress the importance of getting vaccinated throughout the holiday season and into the winter months. So if you haven't gotten the shot, even if you've already had the flu this season, it's highly recommended that you make an appointment with your doctor, or stop by a medical center or your local pharmacy to do so.
Unfortunately, though, the flu shot isn't 100 percent effective, and if you do come down with the flu, the recovery process can still be pretty brutal. Bowls of chicken noodle soup, meds prescribed by your doctor, and a lot of rest will help speed things along, but if you're looking for some additional soothing to ease your germ-infested aches, consider giving essential oils a fair shot.
Now, of course, holistic remedies aren't for everyone, but that doesn't mean you can't experiment with them. Personally, I love massaging a peppermint essential oil rollerball along my lower abdominals when I'm experiencing an upset stomach, and I know tons of people who swear by the powers of lavender when they struggle to fall asleep.
So, what are the best essential oils to comfort your body through a bout of the flu? I asked a few experts to weigh in on the varieties you'll want to try — here's what you need to know.