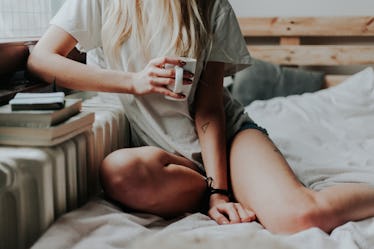 8 Essential Oils For PMS That'll Make That Time Of The Month A Total Breeze
Anyone who's ever experienced the trials and tribulations of a menstrual cycle will tell you that PMS is the pits. Heating pads absolutely provide a decent amount of warmth and nurturing to the afflicted area, and taking pills every few hours can suppress the hormonal migraines and cramping. Sometimes, though, these remedial methods aren't fast-acting, which is why more and more women are turning to essential oils for PMS.
If you're unfamiliar with earth's enchanting little potions, essential oils are highly concentrated liquids derived from plants that are commonly used in aromatherapies, cosmetics, skincare products, natural remedies, and/or applied as pure substances onto the skin. PMS symptoms are bad enough without having to worry about medication side effects messing with your body, too, so these are a great way to ease the pain without having to endure anything extra.
Plus, a woman's menstrual cycle is part of the natural ebb and flow of her body. Suppressing the grueling symptoms with pain medications is like covering a wound with a band-aid: It's a temporary fix to a very real, monthly occurrence, and many women are turning to more organic alternatives to make the experience more tolerable, rather than masking it for a few hours and potentially messing with their bodies even further.
If you're curious whether or not holistic remedies are for you and your symptoms, browse through these essential oils for PMS to get a better feel for what they do and how they soothe.