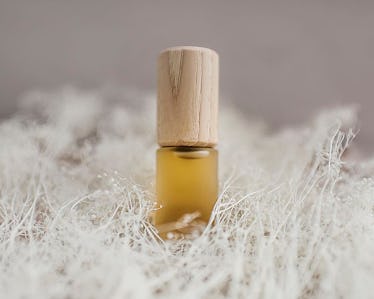 6 Essential Oils That'll Clear Up Your Sinuses & Soothe Your Sore Throat When You're Sick
Essential oils may smell intoxicatingly good, but they're not just useful as a substitute for perfume. Using essential oils for colds has been shown to be super effective when it comes to managing symptoms like congestion and a sore throat. But not all essential oils have the same chemical and healing properties.
Essential oils are extracted from various plants and herbs, and since different essential oils come from different sources, it follows that they all have different uses for your everyday life. In other words, you should treat yourself to a whole bunch of different of essential oils: some for colds, some for muscle aches, and maybe a few just because they smell so dang good. Over time, you'll learn which ones you like to use most and in which context.
The best essential oils for your sore throat, stuffy nose, or chronic cough are the ones that have anti-inflammatory, antibiotic, or pain-relieving properties — basically all of the same qualities you'd look for when buying over-the-counter medication.
You can use essential oils in a variety of ways: You can breathe them in all night long via a diffuser; you can boil them in water and breathe in the steam; you can even just rub them onto your chest or temples to allow the oils to seep directly into your bloodstream.
But overall, the best part about using essential oils is the freedom you have in mixing and matching your favorite scents and finding the ones that work best for you. Here are six essential oils to choose from when you have a gnarly cough and a stubborn sore throat.