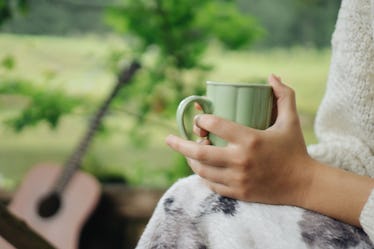 The Last Flu Season Death Toll Hit A New High, So Here's How To Stay Prepared This Fall
It's that time of year again. Obviously I mean pumpkin spice season, Halloween, and cozy sweater weather. But it's also the season during which the flu rears its ugly head. It's more important now than ever before to be prepared for flu season, as the Centers for Disease Control and Prevention (CDC) have released data on the most recent flu season, and the 2017-2018 flu death toll hit a new high. According to the CDC, an estimated 80,000 people died from influenza or flu-related causes. Not only that, but the agency's data also showed that hospitalization rates for all ages were the highest they'd been since the 2014-2015 flu season, at about 900,000 people. As CNN reports, this means the most recent flu season was the deadliest in over four decades. It also means it's crucial to stay healthy and prepared as the next flu season quickly approaches.
So what exactly can you do to stay healthy during flu season? First of all, you should definitely consider getting the flu vaccine. It's your "social responsibility to get vaccinated," U.S. Surgeon General Dr. Jerome Adams said at a National Foundation for Infectious Diseases news conference this week. If you're interested in getting a flu shot (the CDC recommends that everyone over 6 months old gets vaccinated), you can either visit your doctor's office or opt for a local pharmacy, such as CVS or Rite Aid. The CDC's HealthMap vaccine finder will show you all the locations that offer the flu vaccine in or near your zip code.
Being extra careful about your environment can also help you avoid illness as flu season approaches. According to Healthline, one way to lower your risk of catching the flu is to keep your home as clean as possible. Focus on places like your kitchen sponges, cutting boards, and sinks, where germs and viruses are likely to congregate. If you aren't quite sure how to clean a sponge, Healthline suggests either microwaving it for one minute on a high setting or just replacing it altogether.
It's also important during this time of year to treat your body to foods that not only taste delicious, but will protect your health as well. So, thanks to the start of both the fall and flu season, it's time to start eating oatmeal to your heart's content, because according to Jaclyn London, MS, RD, CDN, nutrition director at Good Housekeeping, the nutritious breakfast food is great for boosting your immune system. "The beta-glucan found in oats helps boost our infection-fighting blood cells," London wrote in a 2014 article for Good Housekeeping. "Oats also contain selenium and zinc, two important nutrients for warding off infection and helping you stay in fighting shape."
And, if you're an apple cinnamon oatmeal fan, you're in luck. Feel free to sprinkle tons of cinnamon into your oatmeal, because not only does the simple spice taste fantastic, it can also be powerful in warding off infections like the flu. A study published in the medical journal Evidence-Based Complimentary and Alternative Medicine found that cinnamon is excellent for reducing inflammation in the body, meaning it can potentially help to lower your risk of disease.
If you're in more of a savory mood or don't really love oatmeal, opt for a dairy product that can fight off infection just as easily. "Kefir is loaded with probiotics that strengthen your immune system," Dr. Mike Roussell, Ph.D., co-founder of Neuro Coffee, told Women's Health. If you aren't familiar with the food, kefir is a thick, fermented dairy drink, and again, it's super rich in probiotics.
Plus, Roussell told Women's Health, because kefir has more protein than other dairy products like milk, he said that the creamy food can help your body absorb as many healthy nutrients as possible. Other probiotic foods, like tempeh, kombucha, kimchi, and pickles, can deliver similarly hearty boosts in immunity.
Frankly, if flu prevention can include delicious things like kimchi and hot spiced oatmeal, I'd say that makes the uncomfortable experience of getting the flu shot so much more worth it.