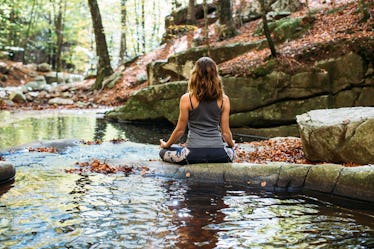 These 5 Fun Workouts Are A Great Way To Practice Self-Love On Valentine's Day
Feb. 14 is quickly approaching, my friends, and if you don't have any Valentine's Day plans yet, it's time to start brainstorming. Whether you have an SO or not, it's important to remember that this day is an amazing opportunity to shower yourself with all the adoration and self-care, and that might include moving your body in a way that makes you feel absolutely amazing. If you're planning on getting your sweat on amidst all the romance in the air, rounding up some Valentine's Day workout ideas to celebrate your kickass body will remind you to love yourself on V-Day, and every day.
When it comes to working out, it can be easy to get caught up in a mindless and monotonous exercise routine based on what you feel like you "should" be doing. On the other hand, mind-body exercises are designed to challenge your physical limits and feed your soul, so that you can nourish your entire being from head to toe.
This Valentine's Day, treat yourself to one of these five mind-body workouts that will leave you feeling like the goddess that you truly are. Because remember, the most magical and valuable relationship you'll ever be in is the one you have with yourself.