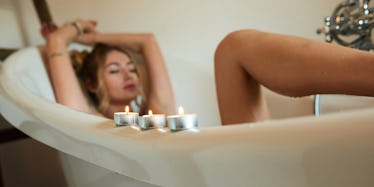 Take Time To Love Yourself This Valentine's Day With These 11 Self-Care Rituals
Valentine's Day is right around the corner, and it might seem like people are suddenly scrambling to set up last-minute dates so they won't be alone on what's supposed to be the most romantic day of the year. However, what many people forget is that your relationship with yourself is actually the most important and sacred relationship you'll ever be in. Whether you have an SO or not, finding some self-care activities to try on Valentine's Day is the perfect way to take time to love yourself, and show yourself how much you freaking adore you.
Learning how to be alone, and how to comfortably spend some quality one-on-one time with yourself, is such an important way to get to know who you really are and practice self-compassion. The simplest of activities can go such a long way when it comes to showing your body and mind how much affection you have for them. And what better day to shower yourself with all the love than on Valentine's Day? TBH, though, you can (and should) feel free to try any of these self-care rituals on any day of the year, and as often as possible, because you deserve to feel like the goddess that you truly are 24/7.
But, with V Day quickly approaching, consider trying out a few of these 11 self-care activities to show yourself some major lovin', so you can be your very own valentine.