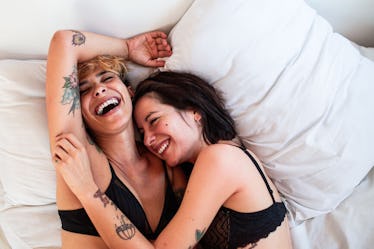 5 Things To Know About Sex With Air Signs That'll Get You Hot & Bothered
If you're dating an air sign (Libra, Aquarius, or Gemini), you're probably no stranger to their quick wit, knack for knowledge, and glowing popularity. Whether you're just flirting or still in the "talking phase," there are several things to know about sex with air signs that you might not realize until after you hook up. Take it from a Libra who's been dating a Gemini for years: When it comes to sex, an air sign will always keep you on their toes.
Air signs are known for being intellectuals, which will probably be clear when your Libra f*ck buddy asks you all for all the details about your kinks and turn-ons. Geminis have a reputation for being flighty in every aspect of their lives, sex included. They also tend to go wherever the wind takes them and because of this, they can be lots of fun in bed.
And last but not least, Aquarians. Similar to Libras, they crave connection, and like Geminis, they love to have fun. But unlike the other air signs, Aquarians have a hard time opening up to potential partners. When they finally do, they let their freak flag fly. Here are five other things you should know if you're getting hot and heavy with an air sign partner.