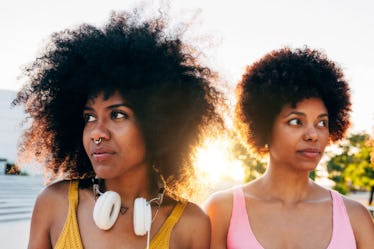 Here's How To Argue With An Air Sign Partner Calmly & Productively
When tensions run high between you and your partner, your first instinct might not always be compassion. It might be something more like, "Yell! Be mad! Let your partner know what they've done is sh*tty and hurtful!" Anger is a totally normal reaction. But for people whose partners fall under the Libra, Aquarius, or Gemini zodiac signs, you might want to use another approach. Arguing productively with a partner can be really hard, but learning how to argue with an air sign partner might be even harder. When an air sign's back is against the wall, they tend to lash out and use their wit to drag you. They're that good.
Still, for all their sharp words and impassioned arguments, air signs don't like fighting. Seriously, they don't. They're not like earth sign partners (Virgos, Capricorns or Taureans) who relish in being right. And they're not like fire sign partners (Leos, Sagittarians, or Aries) who live for the explosive thrills ... and the making up that comes after. Air signs want harmony. I mean, Libras are literally symbolized by the scales, which speak to their love of balance.
To keep an argument with an air sign from turning into a tornado, there are a few tips you can keep in mind. Below, three things to remember when getting into a fight with your Gemini, Libra, or Aquarius partner.