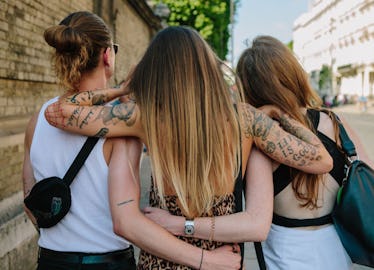 5 Things To Plan With Your New SO & Your Bestie That'll Bond Them For Life
Let's be honest: There are many important people in your life. There's your best friend who's been around since day one, when you were in kindergarten and still learning the difference between purple and pink. They remember when you got your scooter, and introduced you to your favorite brand of chocolate pudding. Then, there's your partner, who may or may not have entered your life recently, and appreciates all of your quirks and interests. You love them both and want them to be comfortable and close with each other, too. I don't blame you — that's why I've come up with some things to do with your partner and best friend that'll bond them for life.
If we're being really honest, you're so grateful for these two people and don't know what you'd do without them. They're the ones you go to for and with everything, from any problems you're facing at work, to the memes you found on the Internet. They laugh with you at your embarrassing stories and listen intently when you talk about your passions, hopes, and wild dreams. You consider yourself so lucky you get to make them smile on a daily basis, and vice versa.
The more you think about it, together, they would be unstoppable. They would be like peanut butter and jelly, milk and cookies, or Ann Perkins and Ben Wyatt from Parks and Recreation. They would make waves in the world, and truly bond while doing these five things with you.