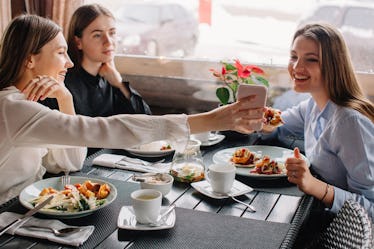 OpenTable Just Revealed The 100 Best Brunch Spots, So Get Ready For All The Avocado Toast
I don't know about you, but I live for brunch and would die for brunch. I love waking up slightly late on a weekend, meeting up with friends while the neighborhood is bustling with activity, and choosing from a menu filled with lunch and breakfast options, not to mention perfectly crafted brunch booze selections. That's why I was so stoked when OpenTable dropped an analysis of the best brunch restaurants in the U.S., because OpenTable's 100 Best Brunch Restaurants in America for 2019 will help me and other brunch-lovers all over the country step up their brunch game in a major way.
To determine the best brunch restaurants in America, OpenTable analyzed diner reviews collected between March 1, 2018 and February 28, 2019. According to a press release, the company looked at overall diner rating, user clout, total number of reviews, and overall regional rating to determine an overall score for the restaurant. Then, OpenTable combined that data with the sum of "brunch" tags on those restaurants and voila! A rating was generated.
Though 100 restaurants were rated against other restaurants in the U.S., the top 100 weren't ranked among themselves, just listed in alphabetical order on OpenTable's released list. The list includes restaurants from all over the country and places that serve all different kinds of food, and you can find the full list of 100 of the hottest brunch spots here. To get you started, here are 10 of OpenTable's top 100 brunch restaurants that you can hit up for your next brunch outing.