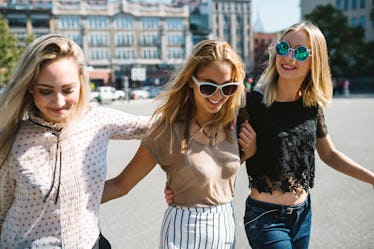 If You Don't Have Any Major Summer Plans, Do These 7 Things With Your BFFs
This morning, you may have flipped through your schedule and realized one thing: You don't have any major summer plans. You don't have any international trips in the books, or long weekends that are meant to be spent exploring the coast with your BFFs. There may be a few coffee dates, happy hours, and Instagram-worthy photo shoots penciled in here and there. But other than those hour-long adventures, the next season of your life is looking totally open. You know that concerts, beach days, and spontaneous drives will likely come up, and you'll make the most of your time. I'm here to tell you that if you don't have summer plans, you and your BFFs can still make some and new memories, too.
First things first: Let's recap. Last summer around this time, you might have been running errands and packing your suitcase for a week with the sun and beautiful surf in Mexico. You were cleaning your apartment, posting a few "away" messages on social media, and emptying your camera roll. You were the farthest thing from bored, and really looking forward to getting to the airport, sitting on the plane, and taking a deep breath.
After your week in Mexico, you were going to visit your long-distance BFF in her city, and spend a weekend in the national parks near your town. Arguably, you had too many plans. Oh, well. That means this summer, you and your BFFs can do these seven adventurous things.