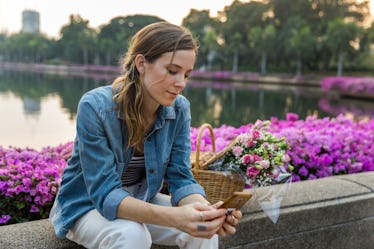 5 Texts To Send Your Friend After A Bad Breakup, Because A Little Love Goes A Long Way
Gather the troops: Your bestie has just gone through a bad breakup, and she's hurting. It can be tough to know the right thing to say when your friend is suffering, but whether they know it or not, they're counting on you to lift them up in any way you can. And it may not take much, either: there are some foolproof texts to send your friend after a bad breakup for letting them know that A) you're here for them and B) they're going to be fine.
Obviously, it's a good idea to reach out via text when you know your BFF is having a hard time post-breakup. The question, however, is what to text. After all, the last thing you want to do is make too much light of the situation, or trigger additional sadness or pain by bringing it up. Ultimately, the best texts to send your friend are the ones that remind them that while it may not feel like it right now, there's a light at the end of the tunnel. Ideally, they're the kind of messages that inspire a little self-compassion or self-love, and perhaps even some much-needed laughter. When a relationship ends, it can feel like you're in mourning for the love you lost. But as their best friend, you have the opportunity to fill some of that gap by showing them love in a different way.
Hoping to brighten your bestie's day? Here are a few texts that maybe, just maybe, will help ease the agony of their recent breakup.