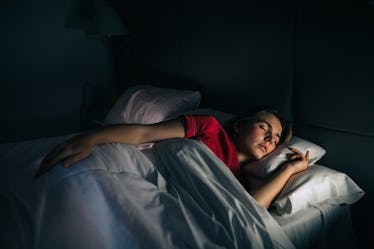 The 5 Most Important Red Flags To Watch Out For When It Comes To Your Sleep Schedule
Sleep isn't always the easiest aspect of your life, even if it's technically something you do while you're unconscious. In fact, it can be even more difficult to have a handle on your sleep schedule than other parts of your life, simply because you don't necessarily know what's going on. The best way to stay on top of your sleep health is to watch out for the sleep red flags that may mean you're not getting good enough, or even long enough, sleep.
Even though you may not ever really take the time to consciously think about things like this, your sleep cycle is far more complex than an on/off button for your body: There are multiple stages of your REM (rapid eye movement) cycle, from the lightest stage of sleep to the deepest stage, each of which has a different purpose and intensity, the deepest stages being the most important for your rest and overall health, as well as the worst ones to wake up in the middle of.
The typical adult needs about eight hours of sleep each night in order to feel well-rested the next day. Consider this your barometer for sleep, especially if you think you're not getting enough.
Sleep might seem like a complex beast to master, but it's more about knowing what the signs of fatigue are, and how to fix them. Here are five quick red flags to look out for, and how to tackle them.