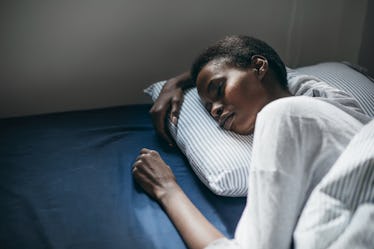 6 Subtle Red Flags That Could Mean You're Sleeping Way Too Much
Have you ever woken up after an unusually long night of sleep and felt, well, kind of awful? Whether you roll out of bed feeling super dehydrated, nursing a throbbing a headache, or you simply feel stiff as a board, there are reasons why your body might be feeling off after slumbering for a long spell. And rest assured, your body will do its best to alert you to those signs that you're sleeping too much, and they're something you want to pay attention to for the sake of your well-being.
While it's true that, most of the time, we talk about not getting enough sleep, sleeping too much can prove to be just as serious an issue. There is, in fact, a condition called hypersomnia, and those affected — about 2 percent of the population, according to the American Sleep Association — need about 10 to 12 hours of sleep per night to feel well-rested. So, if you find yourself clocking in the recommended seven to eight hours of sleep per night, but you still feel fatigued, there could be other issues at hand that you should speak to a doctor about.
Here are a few other red flags that might mean you're spending a little too much time under the sheets.