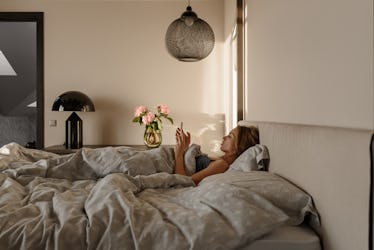 5 Sexts To Send Your Ex If You're Still Hooking Up That Put The "Ex" In Sex
Sometimes the thing you miss most about your ex is, well, the sex. If you've called it quits but you're still getting frisky, knowing some sexts to send to your ex can be the perfect way to keep the heat alive, even when you're not together (like, literally not in the same room together, but also not romantically together, because you've broken up). Getting it on with an ex can be a carefree and fun way to let your bodies do the talking. After an emotional breakup, sometimes the best way to break the tension is to work it out between the sheets.
Of course, like all things in sex, diving into NSFW texting demands some major conversations about consent. If you and your boo used to sext all the time during your relationship, you may feel comfortable bringing the sexy back even after the breakup. Still, even if you've done it before and you're completely sure they'd be OK with getting a racy text, checking in IRL before getting you're sexy on over the phone can be a very important practice in respecting each other's boundaries.
If you're still going at it after the breakup, here are five sexy texts to send your old flame.