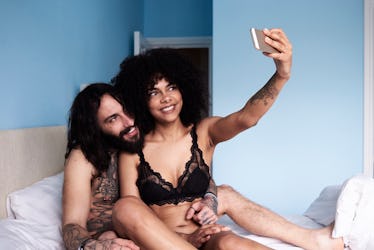 These 5 Hot Sex Positions Will Make Your Leo Partner Roar
Westend61/Westend61/Getty Images
If you like lustful, indulgent, and cinematic sex, your best bet is to get freaky with someone born between July 23 and Aug. 22. Everything about Leo is glamorous and bold, so of course this sign is embodied by the lion. If you find yourself getting naked with your Leo crush, or you're looking for ways to feed your inner lion, keep in mind that the hottest sex positions for Leos will be the ones that put them center stage.
This sign loves a leading role. The lion is the king of the jungle, after all, which ties neatly into this astrological tidbit: Leo's ruling planet is the sun. Whether you find it sexy, frustrating, or a little bit of both, this sign's world-revolves-around-me attitude is their default setting.
Because Leo loves attention, sex in front of a huge mirror will be a major turn-on. This sign is also titillated at the thought of being watched or recorded while getting it on. Leo wants an audience, even if it's only an audience of one or two. (Just be sure to get your partner's consent first.) Here are some more sexy ideas for ways to feed your ravenous-for-attention Leo lover, and give them the spotlight they deserve.