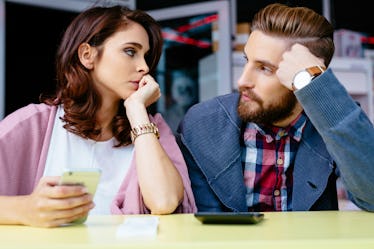 FYI, Your Partner's Habits In Quarantine Could Be Total Red Flags
Shutterstock
It probably didn't take long in quarantine to notice some of your partner's *quirks.* Like, their bizarre "work voice," or their insanely loud chewing, or how they rarely remember to refill the ice tray. These may all be annoying AF, but there are other quarantine habits that are relationship red flags. Experts say these particular behaviors can signal that your partner doesn't respect your thoughts, opinions, and feelings — so being able to recognize them and address them ASAP is crucial to sustaining a happy and healthy bond.
"Time together in quarantine condenses a lot of experiences into a small period of time, allowing you to better notice patterns in your partner's behavior," explains Laurel Steinberg, licensed psychotherapist and relationship expert. "Some people will find that their partner's patterns are not something they'd like to experience long-term."
One reason quarantine brings these red flags to light is that these unusual circumstances have likely highlighted your differences as a couple. It's normal and healthy to disagree now and then — that's not a problem. But if you or your partner aren't willing or able to work through those challenges together, that can spell trouble.
"The best prognosis for a relationship is how well you navigate and process conflict together," says clinical psychologist Jordana Jacobs, PhD. "And couples have been put to the test in the last four months. Fortunately, with nowhere to run during quarantine, we have also had the unique opportunity to face these red flags head-on and determine whether or not we are able as a couple to work through them."
So, while some of your SO's behaviors may be less than ideal, the good news is that you have the opportunity to nip them in the bud before they become larger problems in your relationship. According to experts, here are some of the warning signs to look out for.