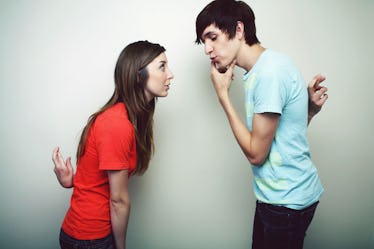 4 Foolproof Ways To Tell If Your Significant Other Is Lying To You
While I wish we all lived in a beautiful world full of unicorns, rainbows, and sample sales, unfortunately reality consists of some things that aren't always pleasant — like lies. Some lies are fairly harmless, like the hostess at brunch telling you the wait for your table is only 10 minutes when you know it's going to be at least an hour. But some lies can really sting, especially if they come from someone you love. While sometimes you might be able to tell right away if your boyfriend or girlfriend is lying to you, sometimes you might not. Luckily, there are several red flags that can help you identify when your bae might not be telling the truth.
First of all, if you suspect your partner is lying to you, you should absolutely call them out on it. I spoke to Dr. Grant Hilary Brenner, co-founder of Neighborhood Psychiatry, about how to do this. He says, "Be upfront, tactful and non-accusatory. We have to know our own issues in order to deal with intimate others. If someone is more suspicious, has a family or personal history of being deceived or betrayed, it's important to manage those feelings in order to have a constructive conversation when we suspect someone of lying to us."
Your intuition will likely give you a metaphorical kick in the gut when you sense something is off with your partner, but here are certain "tells" that could help you determine if they're being untruthful.