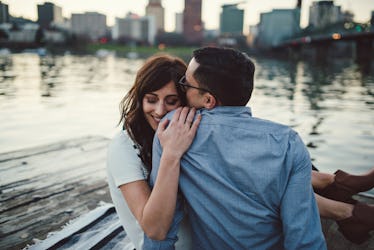 5 Places To Hook Up Outside Without Getting Caught Now That The Weather Is Nice
Right after joining the mile-high club (having sex on an airplane), most people fantasize about having sex outdoors. Call them what you will — thrill-seekers, adrenaline junkies, exhibitionists, or just life enthusiasts — these people are having the time of their lives, in the bedroom, in the cockpit (ha!), and everywhere else. Ideally though, the trick is to find places to hook up outside without getting caught because you can actually get arrested for this.
Criminal punishment for public indecency and lewdness includes up to 12 months in jail in some states, hefty fines, community service, and probation. If kids are present in the area, you'll also have to register as a sex offender on state and federal registries. So if you're going to proceed, do so with extreme caution.
I don't blame you for wanting to get outside after months of hiding out from the cold. Is it spring? Is it summer? Who knows? Who cares? All that matters is that it's finally warming up again. Blizzard sex is great and all but cabin fever is real. It's time for you and bae to heat things up with a lakeside smoke show, if you know what I mean. Here are five public places you might consider having sex now that the air doesn't hurt your face.