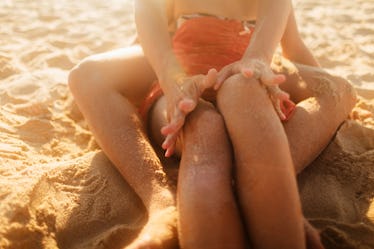 This Is The Trick To Having Sex On The Beach Without Getting Sand Up Everywhere
Over drinks one night, my friends and I dove into a conversation about sex bucket lists — as in, the list of all of the sexual acts you'd like to try at some point in life. One friend said that her list was less about things to do and more about places to do them, a sentiment with which everyone quickly agreed. Where were my lady friends dying to have sex, you ask? On mountaintops, pool tables, and — most popularly — on the beach. Because no, none of us had thought through how to have sex on the beach logistically, and therefore had failed to consider the fact that sand gets everywhere.
Seriously, everywhere. Like, all up inside of you.
TBH, I've never tried sex on the beach myself, but a friend of mine once described the sandy aftermath as "the feeling of rubbing a very scratchy body scrub in your vagina." So, there's that.
If a romp in the sand dunes is still at the top of your sex bucket list, though, don't worry: There are plenty of tricks to avoid this scratchy scrub effect. I chatted with adult film star Stirling Cooper to find out exactly which sex moves are best for sandy spots. He would know — having sex (sometimes) outdoors is something he does for a living.
"Don't go for any position where [the receiving partner] is laying on [their] back (missionary or spoon) because that's a guaranteed way to get sand in a rather uncomfortable place," Cooper recently explained to Elite Daily.
With that in mind, here are four moves to try instead, all designed to minimize sand-to-vag contact and maximize pleasure.