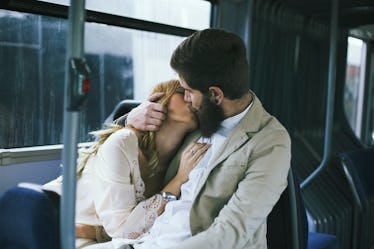 9 People Reveal Their Most Scandalous Public Sex Stories & OMG, They Are Wild
I'm pretty sure no accredited colleges actually offer classes on where to have sex in public, but that hasn't stopped college students from getting frisky in the back of their lecture halls or on the sand volleyball courts near their dorms. It's no surprise that public parks come in first on the list of most common places people have sex in public (compiled from a DrEd Online Doctor survey). People also admit to doing the deed in their cars, in the ocean (sorry, Nemo!), in public bathrooms, and at the movies. Coming in at 6th place? You guessed it — at school or in a library.
So yeah, public sex is a huge turn-on for some people. The thrill of sneaking around, the anticipation of getting caught, and the freedom of being outside of the bathroom are enough to make me think, "Eh, maybe I'll try it some day."
Until then, I'll have to live vicariously through the brave ones who've come before me, literally. The people who have so willingly taken to the internet to share their most outrageous stories about that one time (or two or three) they had sex in plain sight. I mean, do these people know that having sex in public is a criminal offense? Probably not. Evidently, it's hard to care about legal stuff when you're doing hand stuff in the backseat of your car at a drive-in... or when you're strolling through Central Park?