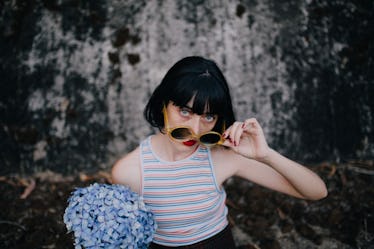 5 Personality Types That Are Most Selfish In Relationships
French philosopher and author Albert Camus once wrote, "To be happy, we must not be too concerned with others." But there's a difference between practicing self-care and being downright selfish. It's an important distinction to make when it comes to relationships, given that dating someone who is too wrapped up in themselves can be a downright frustrating experience. That's why it's helpful to know the Myers-Briggs personality types that are most selfish in relationships.
By nature, love is a selfless game. After all, there will be times in any relationship where you have to make sacrifices for your partner, and vice versa. There has to be some give and take. When one person is doing all the taking, resentment can build, making it impossible to maintain a happy, healthy bond. Moreover, this kind of dynamic can eventually lead to codependency, a type of one-sided relationship in which one partner depends on the other for meeting all of their needs.
Just as all of the MBTI types have their own unique strengths and positive traits, they also have their flaws. As far as the latter goes, these particular personality types may be more prone to being self-absorbed — so don't be surprised if they tend to put their own needs and wants before yours.