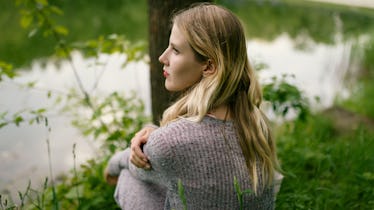 5 Mantras To Recite When You're Getting Over Someone You Still Love
Shutterstock
The truth is, your feelings for someone don't necessarily end just because your relationship does. If you're living that reality RN, you know that it can make it exceedingly challenging to move on after a breakup. After all, how are you supposed to let go of someone who still holds such an important place in your heart? The answer could very well lie in saying some simple, self-empowering phrases. Recite these mantras when you're getting over someone you still love, and you may be able to develop a more positive mindset about your situation.
BTW, being in love with your ex is a pretty common conundrum — just refer to the top jams on Spotify right now or the most popular rom-coms. There's no reason to be ashamed of your lingering feelings. The way you feel is never "wrong," it just is, and accepting those emotions and allowing them to run their course is the only way to move forward. Besides, the conditions of modern society don't exactly make things easy. It can feel next to impossible to get over someone when you're exposed to daily reminders of them on social media.
Regardless of who did the breaking up, how it went down, or why the split happened, trying to heal when your heart still belongs to your ex is a complicated journey that may involve a few emotional bumps in the road. But don't underestimate the power of a solid mantra. These phrases, in particular, can enable you to foster some much-needed self-compassion, hope, and overall optimism about the future.