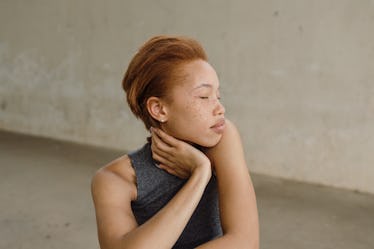 16 Daily Affirmations To Recite When Getting Over A Breakup
Sometimes the only thing you need when you're getting over a breakup is time and space. Other times, it's junk food and Lush products. And on occasion, it's daily affirmations. No matter how long you were dating your ex, the end of a relationship can be everything from painful to completely shocking. Of course, no matter what is happening in your love life, you are strong and smart and you will get through this. There is no one way to heal from lost love, but rest assured my dear, I am with you every step of the way.
Listening to empowering music and saying daily affirmations can be a great way to reconnect with yourself as you begin to heal from a breakup. Whether you find solace in journaling or getting mani-pedis or if you just need to watch sad movies in your jammies — you control how you get over your breakup and you are in charge every step of the way. Still, if you're looking for some good breakup songs and comforting relationship mantras — look no further.
Here are 16 daily affirmations, complete with coordinating tunes (all by amazing power women) to help you heal from heartache.