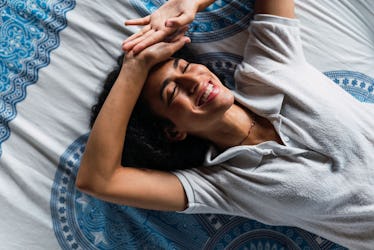 Here's How To Show Yourself Some Love On National Singles Day
It's easy to fall into the trap of thinking that being single sucks. When all your friends are coupled up, all you can think about is what you're "missing out on." Well, enough of that. Sept. 22 marks National Singles Day: A day dedicated to celebrating all the wonderful things about being single. If you're wondering how to show yourself love on National Singles Day, look no further. You don't have to spend NSD moping around the house just because you're single. In fact, you should use it as an opportunity to celebrate your independent relationship status.
In fact, being single, especially during cuffing season, can be a delight. Relish the fact that you can do whatever (and whomever) you want, when you want. Revel in your autonomy. Celebrate the fact that you don't have to worry about anyone but your bad self. And if anything, use it a reminder to make self-care, self-love, and self-pleasure a priority — on National Singles Day, and every day. Take yourself on a date! Give yourself a booty rub! Book a solo vacation! And love on yourself, however that feels right. Below, some helpful tips from experts on how to make the most of a day made for celebrating that single life.