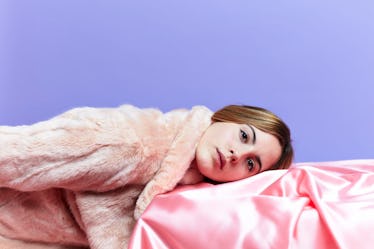 5 Self-Care Tips To Try If You're Bummed About Being Single During Cuffing Season
If you're currently single and feel like you're seeing everyone around you pair up, you're definitely not imagining it. Cuffing season is the time of year where people are coupling up and settling in for dates, movie nights, and posting cute AF Instagram photos that don't make you jealous at all! (OK, maybe I am a little jealous.) Because of all of this, it can be important to practice extra self-care when you're single during cuffing season. And there's plenty you can do according to Nina Rubin, M.A. and life coach.
If you're not totally content being single during cuffing season this year, she explains, your mind can magnify your radar for other couples doing cute and happy things. The main thing to keep in mind when it comes to taking care of yourself this season is to do things that you enjoy and that make you happy. Make intentional time to do things for people you're grateful for. By doing these things, you can derive joy from parts of your life that don't necessarily relate to being single.
I am also single this year, and it can be tough to be one of the only single people at holiday gatherings! But trust that you're not the only one that us single right now. Cuffing season lasts until the day before Valentine's Day. This means that there's still time to meet a special someone if that's what you want. In the meantime, check out the following tips from Rubin on how to take care of yourself this cuffing season.