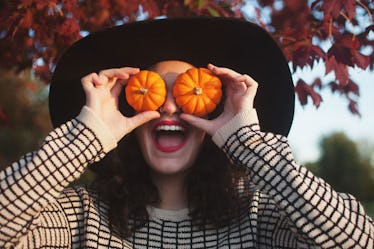 Experts Say Pumpkin Spice Boosts Your Health In These 5 Ways, So Be As Basic As You Want
As much as I'd love to consider myself too cool for something as ~basic~ as pumpkin spice, I truly, genuinely, unabashedly love sprinkling it on pretty much any sweet food I enjoy during the fall season. If you can relate, then I have some good news for you: According to at least two experts, your infatuation with pumpkin spice everything might be boosting your health with some pretty significant perks. Honestly, the health benefits of pumpkin spice are sure to make you fall even more in love with the tasty blend — if that's even possible.
What's even cooler, though, is that according to Amanda Montalvo, an in-house registered dietitian and functional nutrition practitioner at Kettlebell Kitchen, you don't have to go that wild on pumpkin spice to reap its health benefits. Just one to two grams of the stuff, she tells Elite Daily over email, is enough to boost your well-being.
That being said, it's important to be wary of what you eat with pumpkin spice. "These spices are likely to have modest beneficial effect when consumed in typical amounts," Shauna Keeler, a registered dietitian and graduate of the Institute for Integrative Nutrition, tells Elite Daily in an email. However, she adds, pumpkin spice is typically included in sugary baked goods and drinks, and if the spice is "eaten alongside large amounts of added sugar, beneficial effects may be overshadowed by the inflammatory effects of the sugar," Keeler explains.
So, as much as it pains me to say this, that probably means drinking a PSL isn't exactly the healthiest way to reap the overall benefits of pumpkin spice. Luckily, adding the mixture to oatmeal or homemade banana bread is just as tasty.
Here are the health benefits of pumpkin spice, broken down by some of its main ingredients.