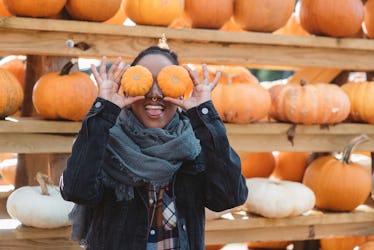 Your Obsession With Pumpkin Means You're Doing These 4 Awesome Things For Your Health
Even though it's still sweltering outside in many parts of the country and kids are just now starting to go back to school, on Aug. 28, Starbucks released the long-awaited harbinger of fall: the Pumpkin Spice Latte. Whether you can't get enough of the trendy drink or aren't quite on the PSL bandwagon, you've probably wondered at some point how much pumpkin is actually in the latte. That's still yet to be determined, but one thing is for sure: The health benefits of pumpkin are no joke.
In my house growing up, pumpkin-carving season also meant harvesting all of the good stuff that's on the inside of the gourd. While I can enjoy some nice roasted pumpkin, what I really love are the seeds on the inside. Baked with a little olive oil and a sprinkle of coarse salt, they turn into one of the most delicious, savory, crunchy treats I can think of. Luckily, pumpkin seeds aren't just the perfect tasty snack; they also provide a whole host of health benefits that support almost every part of your body.
So the next time you indulge in a big hunk of chocolate bark studded with pumpkin seeds, you'll be sure you're doing these four awesome things for your body.