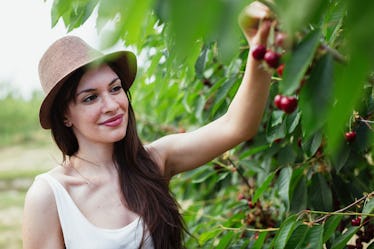 If You're Feeling Really Moody, Eating Any Of These 5 Foods Will Bring You Back To Center
The other, I found myself in a total funk. I felt exhausted all afternoon, even though I'd had plenty of sleep the night before, and my usual positivity just wasn't there for some reason. Fortunately, I've figured out that my mood swings are pretty closely related to the foods I'm eating, so I was able to feel a little better after enjoying a hearty dinner. If you aren't quite feeling yourself, try snacking on some foods that balance your blood sugar levels, because a spike or a drop might be to blame for a particularly "blah" day.
In case you've always wondered what your blood sugar actually is, it's pretty much exactly what it sounds like: the sugar in your blood. Also called glucose, blood sugar comes from the food you eat and it's your body's main source of energy, according to the U.S. National Library of Medicine. But while stable blood sugar levels are crucial for keeping your body energized, too much or too little blood sugar can lead to ugly side effects.
You might think that managing your blood sugar is only something that people with conditions like diabetes need to do, but the truth is, keeping an eye on these things can help you avoid some unfortunate side effects. According to Healthline, if your blood sugar gets too low, you might notice some mood-related side effects like confusion, trouble concentrating, or even changes in your personality. If it spikes too high, on the other hand, you might feel really sleepy. Either way, being conscious of how your body reacts to certain foods can help you stabilize your mood. Here are some foods that'll keep it all balanced.