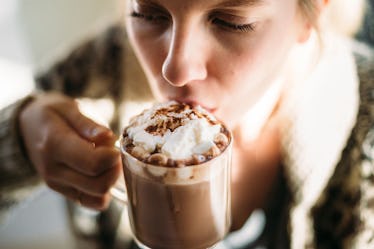 Sprinkle Cinnamon On Everything You Own, Girl, Because Its Health Benefits Are Legit
My favorite way to eat cinnamon is, frankly, any way. While I love pumpkin spice as much as anyone, cinnamon holds a special place in my heart because it tastes fantastic in sweet treats like coffee cake and in savory foods like a comforting curry. TBH, I would probably eat cinnamon even if it were unhealthy, but thankfully, the stuff is actually amazing for your body. With these five health benefits of cinnamon and an infinite amount of taste benefits, you might just fall in love with this fall flavor the way that I have — that is, if it isn't already one of your go-to autumn spices.
There's no need to eat mountains of the stuff if you don't want to, though. According to Mike Roussell, Ph.D., co-founder of Neuro Coffee, a small serving is plenty to get your body all of the health-boosting goodness. "Around one tablespoon of cinnamon is the amount you need," he tells Elite Daily over email. "Some studies have worked with less, but with a dose of one tablespoon you are hedging your bets toward an effective dose."
But, as tempting as it might be after seeing those cinnamon challenge videos, never take the stuff as a shot, cautions Monica Auslander Moreno, MS, RD, LD/N, nutrition consultant for RSP Nutrition, as she tells Elite Daily over email that it's a definite choking hazard. Instead, you're better off adding the spice to a tasty dish or stirring it into a hot tea for the perfect, healthy, fall evening.