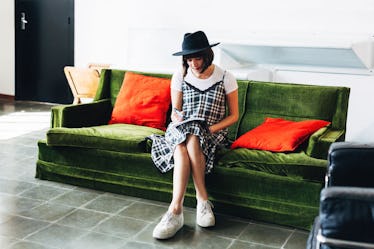 5 Fears About Going On Interviews That'll Make Millennials Laugh, Cringe, & Say, "Same"
If I had to take a wild guess, I'd say that some of your biggest fears might include sharks, spiders, or speaking in front of large crowds. You may not be a fan of heights, the upside-down parts of a rollercoaster, or the dark — especially when you're trying to grab a snack from your basement in the middle of the night. Just thinking about those fears makes you want to cringe, and activates the adrenaline in you. But I'm here to tell you that your nerves and anxieties are totally normal, and something most of us experience at one time or another. The fears about going on interviews that you have, in particular, are pretty relatable and will make every millennial say, "Same."
So, what exactly are these fears? Well, first off, I want to emphasize that you're not alone in the things you experience and how much you dislike the process of landing a job. Most millennials could say that they've sent out a bunch of applications and never received an email back, or have walked into a traditional office setting with cubicles and water coolers and thought, "Wow, this isn't for me at all."
That's OK. The process can be difficult and exhausting before it's ideal and rewarding. You simply have to push through the not-so-fun steps, face these five fears you have related to interviews, and realize an entire generation knows exactly how you feel.