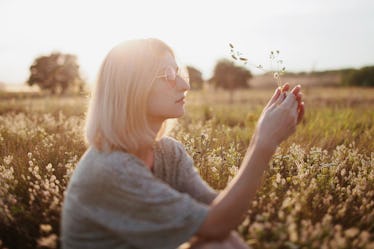 6 Affirmations To Recite If You Want To Find Summer Love, Because Visualizing Is Powerful
There's something about summer that makes it such an easy season to fall in love. Sure, fall and winter are technically "cuffing season," but summer love just feels more romantic. There's a sort of freedom to summer — a feeling of hopefulness and adventure. So, who could blame you for wanting to add a little love into the mix? One way to help make that happen is through visualization and affirmations you can recite to find love this summer. It may sound a little strange, but you'd be surprised at just how powerful owning and stating your desires out loud can be.
Have you ever heard the phrase: "Before you can be it, you have to be able to see it"? Well, reciting affirmations works a lot like that. It's about repeating positive and uplifting statements to help you truly believe in what you're saying, and in turn, put that energy out into the world.
So, if you're ready for some summer lovin', then give these simple, encouraging affirmations a try. Repeat them a few times each day, to yourself or aloud. They can help you create the emotional and mental conditions that can prepare you receive love, and can help build up the confidence you might need to pursue it.