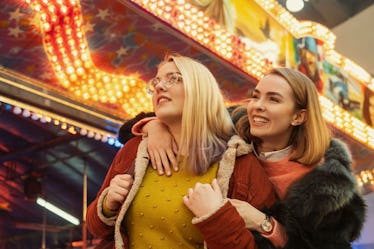 5 Clever Pics To Take At Fall Fairs That Are Outside Of The Box
To be frank, sometimes it can feel a little cliché to take pictures in the fall. Posing at your local orchard with a pumpkin may feel overdone, or sipping your pumpkin-flavored latte in a flannel may feel overrated. Lucky for you, I know of some fall fair pictures to take that are anything but corny, cheesy, or cliché.
Before I give you some ideas for your upcoming content, I want to make a note that taking those traditional pictures is totally fine. In fact, if it brings you joy, keep doing it. Who cares? Your profile is for you to enjoy and curate. It's a place where you get to document your inside jokes, memories, and autumn nights, so you can look back on them for seasons to come. It's like a passport filled to the brim with stamps or the side of your refrigerator that's loaded with ticket stubs — a place for stories to begin and life to be captured at its finest.
These fall fair pictures are simply some #inspo for when you want to show you're living life outside of the box, but have zero clue where to start. They'll remind you to look up at the lights on the Ferris wheel and blow kisses to every pumpkin. Ready, set, go.