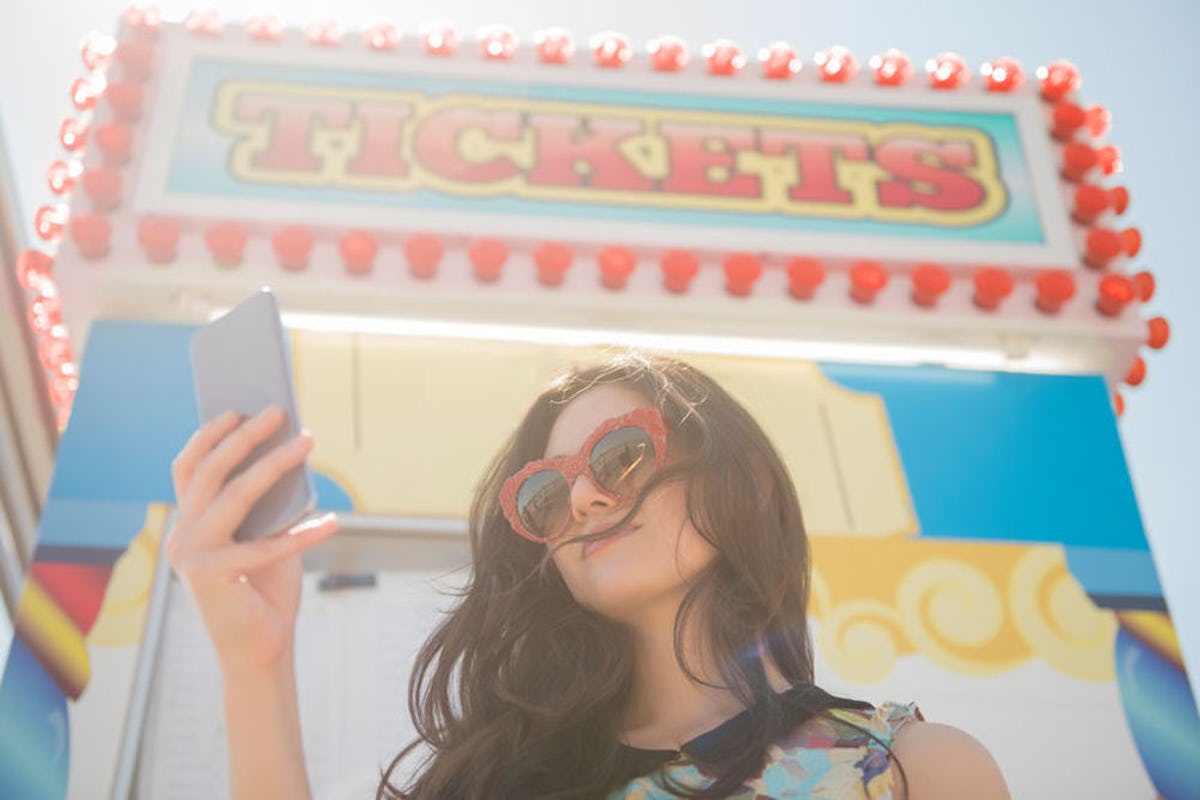 38 Insta Captions For Fall Fairs, Because You're Already At The Ticket Booth
Can somebody pass the cotton candy? It's the sweetest season of the year, and not just because of all the treats. Sure, you'll probably have cider donuts in your apartment well into the holidays, and be baking apple pies for all your friends. But, you're mostly excited for weeknights spent at the fair. It's sort of just a tradition at this point, and makes class or your long day at work so much better. You run up to the ticket booth with your besties, and squeal when you spot the Ferris wheel in the distance. All you need is some Instagram captions for fall fairs for this whole situation to be picture-perfect.
Let's make something clear: You're planning on winning big, and taking home only the fluffiest of stuffed animals from those carnival games. (Agnus from Despicable Me and her unicorn would be proud.) You've come up with strategies, and been fine-tuning your ring toss skills. There's not a single thing that could distract you from taking home the best prize — except for maybe those mac and cheese bites over there.
Aside from all the rides and games, you're excited to get some cute pics with your best friends. The inspiration for #content is flowing, because you can pose against the bright lights of the fried dough stand or hold your Pumpkin Spice Lattes in the air. Just pick out one of these 38 captions for fall fairs before walking into the haunted house or eating all the pierogis. Then you can put your focus solely on having some fun.
1. "This is where the fun stuff happens."
2. "Sweet as cotton candy, bright as the moon."
3. "Just here for the fried dough and Ferris wheel."
4. "You are the pumpkin spice to my fall fair."
5. "Popcorn over problems."
6. "Race you to the ticket booth."
7. "You are better than my favorite sweater in this weather."
8. "Up, up and away we go."
9. "Leave a little sparkle wherever you go."
10. "Everything is #lit."
11. "Splitting French fries with you is my favorite thing to do."
12. "Admit two. Just me and you."
13. "Came for the cotton candy, left with lots of memories with you."
14. "Let's win a prize every time."
15. "Live colorfully."
16. "A ticket to fun and feelin' young."
17. "It's so fluffy!" —Agnus from Despicable Me
18. "You must be this obsessed with fall to ride this ride."
19. "Walking in an autumn wonderland." — Marisa Casciano
20. "You can't spell friend without fried (dough)."
21. "Live, laugh, and eat lots of good food."
22. "Traded the bright lights of the big city for the neon signs at the fair."
23. "Happy fair season."
24. "Curing my wanderlust with cotton candy and bright pink skies."
25. "Can I get a passport stamp from the top of the Ferris wheel?"
26. "Falling in love with this season even more."
27. "Like we're made of starlight." — "Starlight" by Taylor Swift
28. "You'll never know how great a kiss can feel, when you stop at the top of a Ferris wheel." — Freddy Cannon
29. "This is going to be one of those nights."
30. "It's been one blur of fun." — Lilly Pulitzer
31. "Free admission to those who dream."
32. "Long live all the magic we made." — "Long Live" by Taylor Swift
33. "You're my boo."
34. "Let's get spooked together."
35. "Touching the sky because it's boring back on Earth."
36. "Next stop: The top of the Ferris wheel."
37. "Treat yo' self." — Parks and Recreation
38. "More flannels and fall fairs, please."
When all is said and done, you'll be pretty tired. Going to the fair is quite the experience, and one that takes a lot of energy. You'll snuggle up on your couch with a cup of hot apple cider at the end of the night, and scroll through your camera roll. You and your besties seriously scored a lot of cute pics, and you're planning on posting one in the morning.
For now, you're going to prep your captions and see what everyone else is up to on social media. Some girls are taking weekend trips to cute cabins, or finding the best spots for a donut. You're slightly jealous, but already planning to do the same. That's what tomorrow, and another sweet fall day, is for.
This article was originally published on