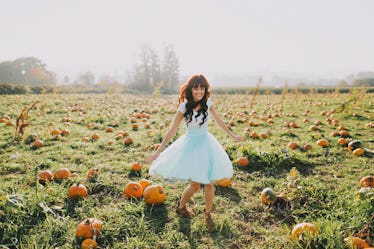 5 Clever Pumpkin Pics To Take For Instagram That You'll Totally Fall In Love With
It might sound a little cheesy, but when the leaves turn vibrant shades of red, yellow, and orange, and the temperature drops below 80 degrees, your heart fills with joy. You rush outside in the morning with a warm mug of coffee and an oversized sweater, and smile brighter than the sun. The air smells like cinnamon, and the farmers markets down the road are open and bustling. As far as you're concerned, this is what happiness is made of. TBH, I couldn't agree more, and that's why I want to give you some clever pumpkin pics to take for Instagram that you'll totally fall in love with.
It's time to celebrate your favorite time of the year on social media, and show off your love for pumpkins, apple cider doughnuts, and hay rides. It's time you go on a cozy weekend trip with your BFFs that requires unplugging, taking a drive into the dreamy mountains, and making s'mores by the campfire. In my personal opinion, I think you should go to a football game or a local orchard to pick apples, and start ordering pumpkin-flavored lattes from your go-to coffee shop, too.
Then, when Halloween rolls around, you can throw a big party at your place or go out to the bar. It's never too early to prep your heart and feed for fall with these five clever pumpkin pics.