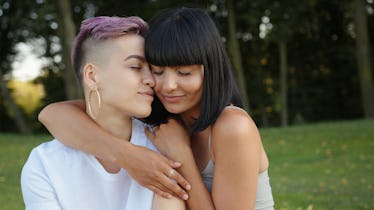 FYI, Here's The Enneagram Type You're Most Compatible With For Dating
Teraphim/E+/Getty Images
Compatibility is a tricky thing. While it's ideal to have at least a few things in common with your SO, you don't want to be too similar — that can be boring, and potentially even problematic. You probably know that looking at your personalities is a good place to start for evaluating a match. But do you know which Enneagram pairings are most compatible? These combos seem to strike a balance between sharing certain values and priorities while also challenging each other in a really beautiful way.
Let's get one thing straight first, though: There isn't just one type for everyone. That's because every individual's ability to flourish in a relationship depends largely on their own self-awareness. According to The Enneagram Institute, "No pairing of types is particularly blessed and no pairing is particularly doomed."
In other words, there's no type you need to consider as "off limits" for you. Any combination of Enneagram types can work (or not work), depending on their flexibility, open-mindedness and willingness to grow. Certain Enneagram types just seem to fit together effortlessly due to the way they complement each other's strengths and weaknesses. So, if you're on a search for your soul mate, here's the type you should keep a lookout for.