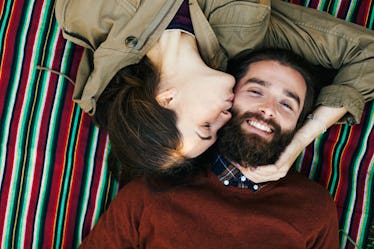 7 People On The Exact Moment They Knew Their Partner Was Their Soulmate, So Grab A Tissue
A solid relationship that has long-term potential can be considered "ideal" for some. However, figuring out if the person you're with is ~the one~ can be tricky if you've yet to feel that indescribable certainty that many people try to put into words. But, before we talk about how you know your partner is your soulmate, I think it's important to clarify that "soulmates" can be as grand or as practical a concept as feels right to you. People often talk about soulmates as if we each only have one and it's our duty to persevere until we find them unless we want to end up unhappy in the end.
IMO, looking for one "perfect" person in a world of millions of people (many of which could be a compatible match) is an extremely daunting task that sets many of us up for disappointment in the long-run. People aren't perfect, and we often don't remain the exact same as we grow, evolve, and age. A "soulmate" doesn't have to be someone who is perfect. A soulmate should be someone who you are excited to be around, experience life with, and who's willing to put in the work to maintain the relationship. Here's how some Redditors found the people they want by their side for the long haul.