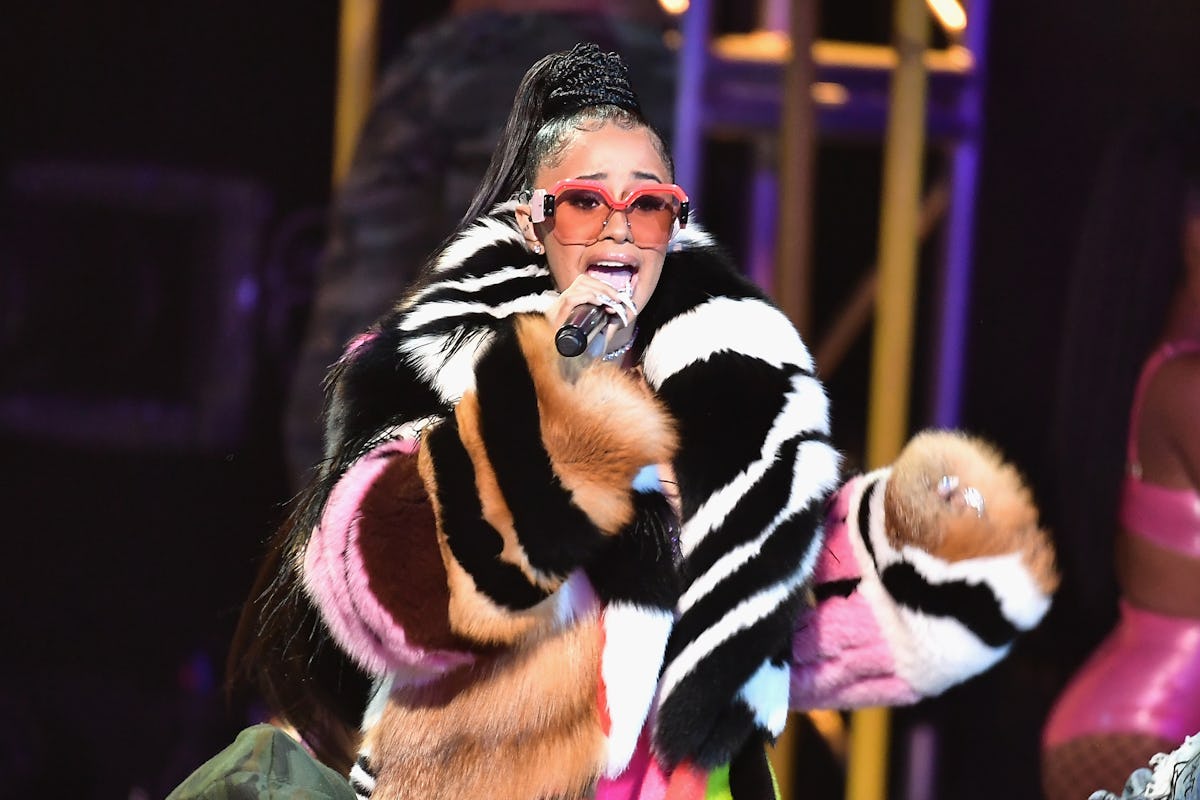 How To Dress As Cardi B For Halloween, Complete With Blood Shoes
Gustavo Caballero/Getty Images Entertainment/Getty Images
She is the biggest rising star in music right now. She's hit number one and isn't afraid to speak her mind. She's Cardi B and she's the baddest. If you are in a total love affair with this hip-hop kween like I am, use her as your muse this Halloween. Cardi B Halloween costume ideas are super cute, will make you feel confident AF, and are a blast to wear and make.
Below are five of Cardi B's most iconic looks. Paired with the right attitude, you are sure to win Halloween this year.
1. "Red Barz" Music Video
What can I say, this outfit will make you feel as smoking hot as you look. In the words of Cardi B,
I put in work, now I'm here at the front line. Ready for the b*llshit, I swear it's on my bloodline.
The toughest part of this costume is getting all items in the right shade of red.
Red Skinny Jeans, $43, Just Fab
Be kind to animals and go for a faux leather. Be nice to your comfort level and try to find a pair of red leather leggings. They'll be more stretchy and breathable — making for a less sweaty Halloween night. The faux red leather pants above are from Just Fab. Regularly priced at $60, members can score these for just $43.
Red Turtleneck, $12, Kohls
The red turtleneck is so not the point of this costume. I think it's a safe bet to make this your frugal purchase. Snag a red turtle neck from Kohl's for less than $12. I mean, you're going to layer it anyways.
Red Biker Jacket, $200, Mango | Red Vegan Leather Jacket, $90, Nasty Gal
If you are willing to spend $100 or more on a faux red leather jacket for this costume, can we be friends? The choices are really endless. There's spot on red biker jackets from Mango for $200 or a cute detailed red vegan leather jacket for just $90 on Nasty Gal.
However, I'm a writer living in a downtown apartment, so I do not have the funds for a splurge like that. There are reasonably priced red faux leather jackets on Amazon, but I think the jacket above from Walmart matches the fiery red color better. Plus, it's only $52.
Wigs are tricky, especially trying to do it on the cheap. My advice from Halloweens past — buy a long-haired wig in the right color and cut it yourself at home. The red wig above from Amazon is only $14.
Trust me, I'm nowhere near a professional hair stylist, but I've had good luck with this method. Plus, I always end up cutting the wigs, anyways. This just gives more room for mistake.
Another tip: Synthetic hair will not curl properly. This look for Cardi B is pin straight, but if you're attempting something with curly/wavy hair, buy a curly/wavy synthetic wig or natural hair wig. You're welcome.
2. Striped Suit From "Foreva" Music Video
This look is fun AF. Grab your biggest pair of hoops, get your hair in two high buns, and get ready to dance the night away. Dulce Candy has a super easy and cute double bun tutorial on YouTube that's really easy to follow.
I think the easiest way to achieve this "Foreva" look is by pairing striped shorts with a blazer. The cool thing is — Cardi B's stripes go different directions so your shorts and blazer don't have to identically match. I actually think it's kind of cooler if they didn't.
Striped Blazer, $15, Amazon
The striped blazer above from Amazon is $15 and can be buttoned in the exact spot Cardi B's is. Keep in mind — this is the blazer I would pick, but there are tons of different cuts, stripes, and styles that blazers come in. Do you and wear what makes you feel most confident.
Striped Shorts, $7, H&M
These shorts should just peek out a bit from underneath your blazer, so there's no need to go crazy trying to find the perfect pair. The high-waisted striped shorts above are on sale at H&M for $7 and come in sizes 2 through 16.
Arm Sleeves, $16, Amazon
Cardi B's outfit gets a pop of color from the sleeves. While you can mess with trying to secure fabric around your arm, it's so much easier to just buy detached sleeves. Remember how much we all loved detached sleeves in our emo days? Claire's probably still sells the netted ones, but Amazon has the above arm sleeves in tons of different colors for less than $20.
If you want to get your costume spot on, glue money signs made of green felt onto the pink arm sleeve.
3. "Bodak Yellow" Kween
"Bodak Yellow" is definitely one of Cardi B's most popular songs, and the music video is everything. With a few pieces, you can actually create this look, too.
Black Dress, $27, Lulus
The base of this entire costume is a black mini dress. Honestly, the more simple the black dress, the better. If you have one already, you should wear it. If not, the simple black dress above from Lulus is only $27 and ranges in size from XS to XL.
Mesh Dress, $9, Shein
SHEIN is an online store known for their variety and inexpensive prices. They sell the above mesh dress, that would make an amazing overlay, for just $9. After investigating if the store is legit (I mean, those prices are unbelievable), most YouTube reviews said yes, but some items are hit-or-miss.
If your goal is to wear this costume just on Halloween, I think it will work just fine.
Studded Belt, $9, Kmart
Dress up the costume with some accessories. Add a studded belt like Cardi B's for cute detailing. K-Mart sells studded belts for $9. It's from the boys department, but (in the words of the cat meme) "if it fits, I sits." What I'm saying is — if you find one that fits for a great price... hell yeah.
Choker Necklace, $7, Etsy
Add a tan, studded choker necklace for the perfect topping on your Cardi B cake. Find the choker necklace above on Etsy for $7.
The hardest detail to get right on this costume is the patches. If you go to Amazon and search for each patch, you will find what you're looking for.
Amazon searches that work:
Just get some big, funky, and colorful patches that you like and they will work great. The "anarchy sign patch" is $8 on Amazon. If you can sew these patches on, congrats on your talent. Personally, I would affix them with fabric glue and call it a day.
4. Go Big Or Go Home — VMA's Style
If you want a costume that is unmistakably Cardi B, go for her all-white VMA's jumpsuit/dress hybrid.
Wide Legged White Jumpsuit, $27, Navashe
Novashe sells a great wide-legged white jumpsuit for $27. This option is cheaper than buying pants and a bodice top separately, not to mention easier than trying to find a pair that go together.
Obviously, Cardi B used Madonna's iconic "cone bra" as inspiration. Since cone bras are a little difficult to come by, the tutorial above from YouTube is easy to follow and uses objects you can find at the craft store.
High-Low Tulle Skirt, $145, Etsy
The detached skirt is the crowning glory of this look — and the most expensive piece. The skirt above from Etsy is $145. If that's out of your budget, I recommend you get creative. YouTube has a bunch of tutorials on creating long tulle skirts that I think will work just fine.
5. Cardi B In Fenty Puma By Rihanna
This costume is a win-win because you're supporting two amazing women. The above look is what Cardi B wore to the Fenty Puma by Rihanna show during New York Fashion Week on Sept. 10.
Clout Goggle Sunglasses, $4, eBay
Be real: We all want a pair of clout goggles. Cardi B effortlessly wore a pair and now I'm dying to get some (see below). For $4 on Ebay — why not?
Next are the boots. Fun fact: White ankle boots are, like, really expensive. If you want a pair to rock all year, then spring for a pricey pair.
Heel Ankle Booties, $20, Charlotte Russe
If you're not looking to splurge on this item, the pair above from Charlotte Russe are only $25 and cute AF.
Distressed Shorts, $15, H&M
I feel fairly certain you probably own a pair of high-waisted denim shorts. If not, grab the pair above from H&M for $15.
Orange Puffer Jacket, $39, eBay
You could buy the actual Fenty women's quilted bomber for $500. You could also buy the orange puffer coat above from Ebay for under $39. Wear it open, use fabric glue to attach "F" and "S" patches, and have a great time.
V-Neck Sweater, $22, Old Navy
I think the sweater is the hardest to match for this costume, so you'll have to get innovative. Buy a basic navy blue V-neck sweater and customize (the one above from Old Navy is only $22). Cut it into a crop like Cardi B's, or iron on the number 13. Either way, the white boots and orange puffer coat will already be screaming "Cardi B."
As you can see, there's no one quite like Cardi B. However, I have faith that you can get pretty darn close. Honor this amazing woman in music and remember — WWCBD? (What Would Cardi B Do?). Happy Halloween!
Check out the entire Gen Why series and other videos on Facebook and the Bustle app across Apple TV, Roku, and Amazon Fire TV.