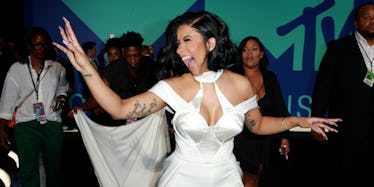 Cardi B Shouted Out Colin Kaepernick At The VMAs And It's So Important
Getty Images/Rich Fury
"Bodak Yellow" has soared to number one on the Billboard rap charts, and Cardi holds the same energy on and off stage. As she introduced Demi Lovato's VMA performance, Cardi B supported Colin Kaepernick by vocalizing that she stands with him as he continues his plight with the NFL. She took a moment out of the busy 2017 show to shine some light in Kaepernick's direction.
Colin Kaepernick has allegedly been blackballed by the NFL as he led protests against police brutality in the 2016 season by kneeling during the National Anthem. On Wednesday, Aug. 23, his supporters along with the NAACP held a rally at the NFL headquarters protesting his unemployment in New York City. Hundreds of people gathered and amplified their voices to let the NFL know that they will boycott the sports association until Kaepernick finds employment.
Although the NFL holds steady that they value patriotism, according to Roger Goodell, they haven't explicitly said that Kaepernick has been blacklisted from NFL hire.
Cardi B said during her intro of Demi Lovato's performance,
Colin Kaepernick, as long as you kneel with us, we're going to be standing for you, baby. That's right, I said it!
Her shoutout to Colin Kaepernick echoed across the virtual world with many fans, celebrities and platforms cosigning her powerful and unapologetic message. This year's VMAs were filled with political shoutouts, including Paris Jackson denouncing "white supremacists" at the beginning of the show, Katy Perry calling out Hurricane Harvey and drawing attention toward donating to the Red Cross, Logic with his moving performance dedicated to suicide awareness, and more.
This was Cardi B's first appearance at the VMAs, and she made it clear that she plans to use her microphone for causes she believes in. Cardi B's fame began on social media before her debut on VH1's Love and Hip Hop: New York City, and from there, she has managed to reach heights that many did not see coming.
Cardi B's VMA debut does not include nominations, but along with her political statement, the rapper performed her chart topping single "Bodak Yellow" at the VMA pre-show. The "regular degular" girl took to the stage, and put on a show for the "Bardi Gang" as she affectionately calls her fans.  
As Cardi B continues to grow as an artist, it is sure that her voice will only get louder.