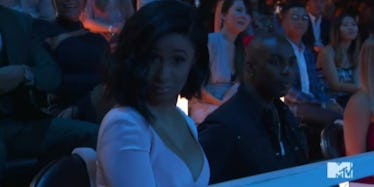 Cardi B Had The Funniest Reaction To Ed Sheeran's Performance At The VMAs
MTV
OK, we stan Cardi B... it's just a fact, and it's safe to say that Cardi B. during Ed Sheeran's VMAs performance is ALL OF US. Her face while Ed performed Lil Uzi Vert's song "XO TOUR Llif3" legit says it all. I mean, can you really blame her? I sure as sh*t didn't expect the red headed singer to pull out an Uzi cover during his time on stage. The song doesn't necessarily scream "Ed Sheeran" to me, but, hey, this is the VMAs and, if one thing is certain here, it's that anything is possible.
Cardi B. is known for her signature rap style and the hilarious way she interacts with her fans (and really just people in general, TBH) on social media, and now it looks like she might just be crowned the newest meme of 2017. Clearly the surprise of Ed Sheeran transitioning from his song "Shape of You" to Uzi's had Cardi SHOOK, and I can't quite tell if it was in a good way or not.
Naturally, this is the internet, and, in the age of memes, nothing slips by us, so people picked up on Cardi's reaction pretty damn quickly and made sure to document it for everyone online. The reactions to Cardi's reaction range from confused to hilarious, but one thing is for sure: We're all about to start using her face to describe our every mood.
Honestly, put it on T-shirts, hats, coffee mugs, magnets, socks, everything and anything. I want, no NEED, a full line of merchandise with Cardi's beautiful face on it.
The rest of the VMAs night was definitely filled with memeable reaction faces from ALL our faves, but I seriously doubt that anyone actually beat Cardi's hilarious reaction so early on in the show. She's a legend, people.