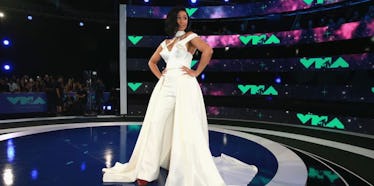 Cardi B's "Bodak Yellow" Lyrics Are Actually Perfect For Your Next Instagram Caption
Rich Fury/Stringer/Getty Images
The 2017 VMAs are happening as we speak, and celebrities are seriously slaying it up on the red carpet with the most fab looks. Cardi B kicked off the beginning of this star-studded affair with "Bodak Yellow." Her beautiful, sparkly ensemble (complete with silver sparkling boots to match) made the performance come full-circle. She crushed it and obviously got the audience super pumped up for the evening. And let's be honest here, Cardi B's "Bodak Yellow" lyrics are literally perfect for your next Instagram caption. Needless to say, if you're always hardcore struggling to find the ultimate caption for your oh-so-adorable pictures, look no further than Cardi B's "Bodak Yellow" for solid inspo.
I mean, for starters, if your name is Cardi, the singer's line, "It's Cardi, ayy," was literally made for you. And if you're the coolest person on this planet, and your pics prove as such, why not go for "I'm a boss" or "Goals, b*tch." For all of my boss ladies out there, your picture deserves a caption like "I make money move," "I ain't got no time to chill," or "Only the real can relate," because, duh. If you're all about that party lifestyle throughout the week and into the weekend, go for "You in the club just to party." And for that prime picture of your girl squad, "You a groupie" sums up all the feels.
Never Forget Cardi B makes her VMA debut with a performance at the pre-show #VMAs pic.twitter.com/0FfIbPCx6z — Never Forget Bot (@forgetmebot) August 28, 2017
Since you're all set with some prime Instagram captions for your awesome pictures, it's time for us to chill one hot second here and give our girl Cardi B's sparkling outfit at the VMAs some serious attention. I mean, her look totally shut it down while she was performing "Bodak Yellow." So, it's only appropriate that when you have an outfit that's totally the bomb like Cardi B's silver one, "This sh*t is hot like a stove" is a great caption for you.